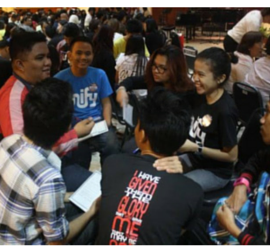 We believe every Christ Follower must be responsible for their own learning. The apostle Paul said,
6 If you point these things out to the brothers and sisters, you will be a good minister of Christ Jesus, nourished on the truths of the faith and of the good teaching that you have followed. 7 Have nothing to do with godless myths and old wives' tales; rather, train yourself to be godly. 8 For physical training is of some value, but godliness has value for all things, holding promise for both the present life and the life to come. 9 This is a trustworthy saying that deserves full acceptance. 10 That is why we labor and strive, because we have put our hope in the living God, who is the Savior of all people, and especially of those who believe. (1 Timothy 4:6-10)
Following Christ is not a spectator sport. We have to be fully engaged in the transforming process that the Holy Spirit is doing in our lives. We cannot simply wait on Him to do all the work. We are to cooperate with Him. He supplies the grace (i.e. the willingness and the ability), but we cooperate through our obedience.
12 Therefore, my dear friends, as you have always obeyed—not only in my presence, but now much more in my absence—continue to work out your salvation with fear and trembling, 13 for it is God who works in you to will and to act in order to fulfill his good purpose. (Philippians 2:12-13)
We also need to have learning goals. We cannot wait for others to tell us what we need to learn. We must become eager to know more about Christ and His kingdom. Teachers are simply there to help us or guide us. Training yourself is your responsibility as a Christ Follower.
5 For this very reason, make every effort to add to your faith goodness; and to goodness, knowledge; 6 and to knowledge, self-control; and to self-control, perseverance; and to perseverance, godliness; 7 and to godliness, mutual affection; and to mutual affection, love. 8 For if you possess these qualities in increasing measure, they will keep you from being ineffective and unproductive in your knowledge of our Lord Jesus Christ. 9 But whoever does not have them is nearsighted and blind, forgetting that they have been cleansed from their past sins. (2 Peter 1:5-9)
Therefore, Christ Followers Institute believes that our role as Teachers are simply to assist and provide guidance to Christ Followers who want to learn and become more effective and productive in their knowledge of Jesus Christ. So our responsibility is threefold:
Assess your learning needs – We will work with you to know what you need to know. We will not spoon feed you with information that you don't need. We will help you establish some clear and workable learning goals.
Provide you with the means to fulfill your learning needs – Like a doctor, we will give you a prescription. We will look for the best resources available (either free or at a minimal cost) and we will recommend them to you. It's up to you to avail of them or not.
Hold you accountable during the learning process – Once you avail of the resources that we recommend, we would expect you to meet with your Teacher so that he or she can hold you accountable in the learning process. He or she will ask you to reflect on the resource that was recommended. He or she will discuss the resource with you. Last but not the least, he or she will ask you to do something about it.
In summary, this process is called R2D2, and it stands for…
Resource
Reflect
Discuss
Do
Your responsibility as a learner is also threefold:
Think about your learning needs and goals – Since we will not be the one learning but you, you need to work on your needs and goals as a learner. Take the time to pray and reflect. The Holy Spirit will guide you (and He will use us to help you), so that you can establish some clear and workable learning goals.
Avail of the resources that we recommend to you – Obviously we cannot force you. But if you do not avail of the resources that we recommend to you, then we cannot help you.
Be accountable in the learning process – If your Teacher asks you to reflect on the resource he or she recommended to you, then it's your responsibility to do so. If your Teacher sets an appointment with you for your meeting, then it's your responsibility to arrange your schedule in order to meet with him or her. You're also responsible for preparing yourself in order to discuss the resource with your Teacher. Finally, if he or she asks you to do something about what you're learning, then you're responsible for doing it. Again, if you don't cooperate in this learning process, your Teacher cannot really help you.
IF YOU'RE READY TO BEGIN, ENROLL NOW!